| | |
| --- | --- |
| Posted on December 11, 2014 at 7:28 PM | |
On December 9, 2014, KASCOE Directors met in Lexington to conduct association business.  Here are some highlights from the meeting.
Membership is at a recent-high of 81% and growing!  Please help us reach out to new employees and even those who may have worked with the agency for some time to share what KASCOE is doing for Kentucky's FSA Employees.
Financial Planning/Retirement Meetings have been planned with NASCOE Benefits provider Dillard Financial.  These will be held Feb. 7 in Hopkinsville and Feb. 21 in Versailles.  More details are forthcoming.
KASCOE will continue to work for more than one Key PT Position in Kentucky.  We will formally propose that a total of 4 are needed in the state.
President, Dana McKinney will communicate with CED's in shared management offices to remind managers of key policies that may apply to their circumstances.
A memo will be prepared and submitted to the SED and STC stating that KASCOE is strongly in favor of finding an alternative to Lincpass-controlled Lexmark printers/copiers that have been rolling out to COF's.  Feedback from other states and users in our state leads us to believe our customers and employees will be adversely impacted if these are put into our offices.
We plan to cooperate with DD's and the State Office in a work-group format to find ways we can improve the Performance Evaluation Rating System for future rating periods.
Dana McKinney and Nina Hunt will be attending the SEA Rally as delegates in April.
A team of KASCOE representatives will "crunch the numbers" to better understand how the workload model used this FY, and possibly into the future, reflects the volume of work in our offices.
A State Convention will likely be held in October, 2015, in Owensboro.
See any Director if you're interested in a chance at winning a $3,000 cash prize.  For a $1 per ticket donation to the Southeast Area Rally's fundraiser, your name will be entered in the drawing.
KASCOE Directors had the privilege to meet with the STC, SED, and Chiefs on Wednesday, December 10, 2014.  Our comments and discussion included many of the same things we had discussed the previous evening, and fortunately, the STC reported that many of these issues had been topics in their discussions the previous day, as well.  This shows we have great opportunities right now to partner for the benefit of our employees!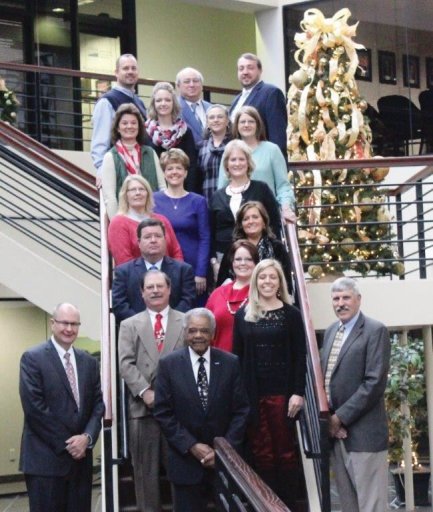 "Thank you's" were extended for face-to-face trainings, partnership with activities like FSA Feud, STC members' participation in trainings, and allowing for our current meeting with them.
Remarks were made on improved employee morale, and how this is due largely to things like promotion opportunities for PT's to recently filled COT positions, backfilling critical vacancies, and networking opportunities that have occurred at trainings.
We shared some KASCOE success stories regarding Scholarship, Awards, Emblems, and Publicity.
Opportunities were presented for cooperation between KASCOE and the STC/STO concerning:

Key PT Positions
Workload Model Team
Performance Evaluation Rating System Work-group
NAFEC membership
KASCOE is committed to serving our members.  Please communicate with your Directors or the Officers if you are interested in working on any of these projects or serving on a committee.
Categories: Meetings
/