| | |
| --- | --- |
| Posted on January 14, 2014 at 10:46 PM | |
KASCOE leadership urges all members to take an active role in sharing NAFEC membership information with your COC members, particularly those newly elected members that will be coming on board next month.  Please consider incorporating NAFEC information into your COC orientation routine.   
When NASCOE Vice President, Wes Daniels, met with KASCOE in 2013, he told members that he'd, ". . . never seen a COC member that wouldn't join if you had the papers ready for them to sign."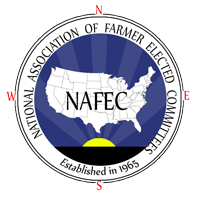 COC members can pay dues annually or submit an FSA-444 to have $3 withheld from each pay-check.  
$1,000 Accidental Death and Dismemberment Coverage is provided at NO COST to NAFEC Members!
Employees/KASCOE members can support NAFEC with Associate Membership.  Associate Dues are $20.
An informational letter and membership form were emailed to all employees in the KASCOE.com e-Mailing List.  Please
SIGN UP NOW
if you didn't receive the email.  
Unrestricted by the rules and regulations that employees are subject to, a strong NAFEC presence can influence national change and overcome national barriers thus ensuring farmers' and ranchers' interests and needs thrive at the local county level. In fact, NAFEC can do two things FSA County Committees cannot. First, NAFEC can request meetings with National FSA leadership to discuss administrative concerns; and, second, NAFEC can discuss program needs directly with Congressional 
leaders.
LEARN MORE
Tim Taylor, CED, Simpson Co., is KASCOE's NAFEC Committee Chairperson.  If you need more information, please contact Tim, or reply to this email and your question will be directed to the appropriate KASCOE Director.  
Categories: NAFEC
/