Official minutes will be posted at a later date when approved, but the following is an informal summary of the recent KASCOE Directors Meeting. 
Membership is currently 82% of permanent COF Employees.  Currently, there are 19 Associate Members. 
Scholarship Committee report resulted in two state scholarships being awarded.  The winners are Cheyenne Perry (Traditional), and Kassandra Hamilton (Open).
Because national scholarship program rules and categories have expanded over the past couple of years, it was evident that Kentucky needed to update our state-level policy.  For future years, the state will award one $500 Traditional Scholarship, one $250 Associate Scholarship, and consider other scholarship applications only if there is additional funding available.  As is currently policy for Traditional/Associate scholarships, Kentucky will follow NASCOE rules for any categories that are considered at the state level, in the future. 
Programs Report reflected 15 Programs Suggestions have been sent in this year from the Southeast Area, with 6 being from Kentucky.  All employees were encouraged to continue to utilize this process through the NASCOE website. 
Benefits Committee report announced that Holiday World is a new discount available to KASCOE members, with the discount code released in a 4/26/17 membership email. 

NAFEC Committee report included announcement that there are 29 COC members from Kentucky who participate in NAFEC, currently.  Coy extended appreciation for Debbie Wakefield having recently sent a state-wide email to COF's asking them to present the info to COCs.
Publicity report announced that the March Madness Bracket Challenge winners were Gidget Cropper, Jennifer Farmer, and Patricia Estes.
Dawn Ovesen gave a report from the SEA Rally.
Kenni Crane gave a Legislative Update and discussed the need to distribute the White Paper info that was recently sent out to members by KASCOE email to all federal legislators in the state.  There was a discussion that some had already been contacted, but all congressional offices need to receive the information.  It will be posted to the KASCOE website.
Convention Planning was discussed.  Participation in a State Convention has been down recently, so the Directors decided to forego a state convention this year, and plan to host the SEA rally in spring of 2018.  Preliminary ideas were to have in Lexington in April, in order to offer Keeneland as an activity to draw participants from the Area. 

Take a few minutes to familiar yourself with what NASCOE's Programs Committee has been working on, and how that committee can help you get solutions to your Programs problems!
Find out the most up-to-date news about issues NASCOE is working on in your behalf.
In preparation for discussion at the Programs meeting at the NASCOE National Convention, Programs Chairpersons have been asked to canvass states for their concerns and issues that they would like discussed.  Please get any suggestions to Dana McKinney by Friday, if possible, so they can be forwarded for the meeting agenda.
Here are the Notes of last week's WDC trip from Mark VanHoose, NASCOE President.
During your workday, you may encounter obstacles in implementing one of FSA's various programs and determine that there is a better process to accomplish the same goal. NASCOE provides a voice for this process so that your constructive ideas and solutions will be delivered to the National Office, to hopefully streamline program delivery. This is also an opportunity to voice your excitement and support for the processes that are working great, to hopefully encourage, similar types of strategies and ideas that are already successful. This opportunity that
NASCOE offers is your communication line to the National Office from the front line.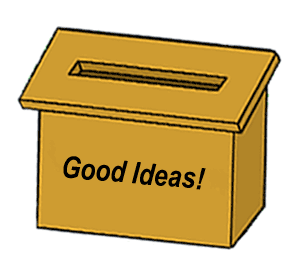 The Programs Committee is ready to assist you in delivering your innovative ideas so FSA may continue successful Farm Program delivery.
Visit NASCOE's
Programs Page
for more information or to access the online submission form.
/