The election results for all districts for the term of September 1, 2018 - August 31, 2020, are as follows:
District 1:   Diane Dunn, CED Director; Eltrander Radford, PT Director
District 2:   Dawn Ovesen, CED Director; Kenni Crane, Alternate CED Director; Cindy Clark, PT Director; Patricia Estes, Alternate CED Director
District 3:   Meghan Edwards, CED Director; Kristie Gassaway, Alternate CED Director; Kellie Samuels, PT Director
District 4:   Adam Haggard, CED Director; Curt Isaacs, Alternate CED Director; Amber Riddle, PT Director; Runita Rice, Alternate PT Director
District 5:    Gera Ferguson, CED Director; Chuck Whitehead, Alternate CED Director; Maeci Carswell, PT Director; Kelli Rouse, Alternate PT Director
District 6:    Kevin Whitaker, CED Director; Lindsey New, Alternate CED Director; Kim Williams, PT Director; Joy Best, Alternate PT Director
Associate:      Jenni Blandford, Associate Director; Felicia Harper, Alternate Associate Director
Retirees's Associate Director:  Barry Allen
Our first meeting of new directors has been scheduled for Tuesday, September 18, at the Elizabethtown Service Center, to begin at 5:00 pm Eastern time.  At this meeting, we will elect new officers which include President, Vice-President, Secretary, and Treasurer. 
KASCOE Directors will meet on Thursday, August 24, 2017, at the Elizabethtown Service Center at 4:30 ET.  Please plan to attend!
Official minutes will be posted at a later date when approved, but the following is an informal summary of the recent KASCOE Directors Meeting. 
Membership is currently 82% of permanent COF Employees.  Currently, there are 19 Associate Members. 
Scholarship Committee report resulted in two state scholarships being awarded.  The winners are Cheyenne Perry (Traditional), and Kassandra Hamilton (Open).
Because national scholarship program rules and categories have expanded over the past couple of years, it was evident that Kentucky needed to update our state-level policy.  For future years, the state will award one $500 Traditional Scholarship, one $250 Associate Scholarship, and consider other scholarship applications only if there is additional funding available.  As is currently policy for Traditional/Associate scholarships, Kentucky will follow NASCOE rules for any categories that are considered at the state level, in the future. 
Programs Report reflected 15 Programs Suggestions have been sent in this year from the Southeast Area, with 6 being from Kentucky.  All employees were encouraged to continue to utilize this process through the NASCOE website. 
Benefits Committee report announced that Holiday World is a new discount available to KASCOE members, with the discount code released in a 4/26/17 membership email. 

NAFEC Committee report included announcement that there are 29 COC members from Kentucky who participate in NAFEC, currently.  Coy extended appreciation for Debbie Wakefield having recently sent a state-wide email to COF's asking them to present the info to COCs.
Publicity report announced that the March Madness Bracket Challenge winners were Gidget Cropper, Jennifer Farmer, and Patricia Estes.
Dawn Ovesen gave a report from the SEA Rally.
Kenni Crane gave a Legislative Update and discussed the need to distribute the White Paper info that was recently sent out to members by KASCOE email to all federal legislators in the state.  There was a discussion that some had already been contacted, but all congressional offices need to receive the information.  It will be posted to the KASCOE website.
Convention Planning was discussed.  Participation in a State Convention has been down recently, so the Directors decided to forego a state convention this year, and plan to host the SEA rally in spring of 2018.  Preliminary ideas were to have in Lexington in April, in order to offer Keeneland as an activity to draw participants from the Area. 

There will be a KASCOE Directors Meeting on Thursday, February 23 at the Elizabethtown Service Center, 250 Sportsman Lake Rd, Elizabethtown KY. Meeting will start at 5:00 pm Eastern Time.  If you know of any issues in your district that needs to be addressed, please contact your Director or let Dana McKinney know as soon as possible so that it may be added to the agenda. 

On February 17, 2016, KASCOE Directors met at Residence Inn in Lexington, KY.  Full minutes will be shared at a later date, when approved.  The following is an overview of items addressed.
Membership Report - We have 82% membership of all current COF employees.  Also, 19 Associate Members.



4 Traditional and 2 Open scholarship applications were received -- all from deserving candidates!  Sufficient funds are available to award all applicants a scholarship.  The Directors voted to fund all 6.  Check back later on our Scholarship page for more info!




Kentucky will offer a $250 Scholarship to Associate Members' children/grandchildren beginning in 2017.  NASCOE will be offering a similar program, and Kentucky's will match those forthcoming rules.



Kentucky plans to send 2 representatives to a Legislative/Leadership Conference to be conducted by NASCOE.

A March Madness Bracket Challenge will be held again this year.

Members are invited to attend and help with the upcoming KACS Zone Meeting.

Kentucky will now offer Member Benefits of Kentucky Kingdom and Louisville Zoo discounts.

Dana McKinney will serve as Kentucky's delegate at the SEA Rally, April 6-9 at Savannah, Georgia.  Several members plan to attend.

2016 National Convention will be in Cedar Rapids Iowa, August 3-6.

State Convention planning for 2016 is underway.

Director Elections will be held this year, in September. 

Follow-up to communications meeting at CRP training was discussed.  Marcinda indicated that the reports calendar remains a priority that she nearly has this completed to share with COF users.

A new NASCOE Emblems provider is being announced and is linked to NASCOE.org website.

2 DSA Nominations have been submitted from Kentucky.

Kevin Whitaker was presented with the Spirit of KASCOE Award.
On February 18, 2016, KASCOE had opportunity to meet for about 1 hour with the STC, SED, AO, FPC, and Administrative Specialist, Mitch Dunn.  The following issues were addressed.
Appreciation expressed to STC for authority to hire many new employees over the past year.

We presented the need for additional Mesonet stations, particularly in StrikeForce Counties.  SED and FPC will follow-up with partners to discuss this. 


KASCOE requested the STC reconsider the decision that CED's are not authorized to attend the upcoming COC Orientation sessions.  Concerns noted were attendance of COC members expected to be less if carpooling with CED doesn't occur.  Also, CED's feel like it is important for them to hear the same information concerning administrative matters and appeals.  The STC/SED will give consideration to our request.

Need for retirement training was discussed.  All-PT meetings will include presentations from Mark Stivers.  KASCOE suggested that additional trainings for new employees, mid-career employees, and those near retirement be held.  The STO agreed to evaluate the possibility of this, and to look at putting out a Notice with recommended resources for employees to access concerning retirement. 

KASCOE presented a concern from the field regarding timely processing of COC members' applications that have to go before the STC for approval. 

KASCOE Directors met on Tuesday, June 16, 2015, in Elizabethtown.  Here are some highlights from the meeting:
2015 KASCOE/FanKASCOE Convention – FREE Registration!
Much of the meeting consisted of planning the upcoming Convention set for September 24 & 25 at Holiday Inn University Plaza in Bowling Green, KY.  The Directors recognized this year as an opportunity to celebrate our growing membership and encourage members to attend by making Convention registration FREE!  Also, a great room rate of $83/night was negotiated. 
The first day of the convention includes a tour of Jackson's Orchard, Opening Session with remarks from our SED, NASCOE representative(s), a National Speaker, and a Benefits/Retirement presentation.  In the evening, there will be a Dance, Live Auction for Scholarship, and Hospitality Room. 
Friday will begin with a complimentary Rise-and-Shine Networking Breakfast, followed by a Q&A Panel with STO personnel, and then KASCOE's Business session to wrap up the Convention.
To ensure you are able to get the group room rate, book your room by August 1.  Hotel Info is on the
CONVENTION
page.  Please submit the Registration Form by September 18, 2015.
Membership Report
Our current membership level is over 81%.  Help keep this number climbing by sharing information about KASCOE with new employees!
Dues Withholding Corrections
It was recently identified in a reconciliation of KASCOE dues that some members had incorrect payroll withholdings.  If this pertains to you, please take action to file an updated FSA-444 with HR.  Contact Dana McKinney if you have any questions.
Scholarship Report
The Directors extend our sincerest appreciation to all employees who have generously supported the Scholarship Program.  As a result of recent successful fundraisers, we were able to approve scholarships for ALL 7 applicants this year.  Stay tuned to KASCOE's Scholarship page in the near future for details, including photos and bios of the winners.
Summer Activities
Our
MEMBER SURVEY
is ongoing through June 30.  If you have not taken the survey, please do so now!  Prize drawing on July 1.
The
SUMMER SCAVENGER HUNT
prize packages are growing by the day!  The Kentucky Tourism Grand Prize Package is currently valued at over $500, and the runner-up Kentucky Proud Package has a value of $300 and climbing, as donations continue to come in.  Check out the specifics on the scavenger hunt page.  Several photos have already been submitted.  Why don't you snap some along your travels this summer, and join in the fun?! 
A selection of photos from the event will be incorporated into a KASCOE 2016 Calendar, which will be available for sale at the Convention, with proceeds to benefit the Scholarship Program.
Dues Year begins July 1
If you pay your dues annually, be reminded that the dues year begins July 1.  Forms are available
HERE
.
Awards Programs
Did you know that NASCOE recognizes employees with Awards for Distinguished Service, Professional Improvement, and Sick Leave hours accumulated?  Also, members and their children who go the Extra Mile in their community, church, jobs, and schools.
Information about NASCOE Awards is currently on the NASCOE website, and an Awards page is coming soon to KASCOE.com so you can easily nominate those deserving recognition. 
KASCOE is resuming the Spirit of KASCOE Award, and we encourage nominations be made through the KASCOE website ahead of the upcoming convention.
By-laws revision concerning Associate Directors
The Directors adopted a by-laws revision to ensure representation of retirees and current employees who are Associate Members by implementing two Associate Director ex-officio positions on the Board of Directors.  This will begin with the next election cycle. 
The FanKASCOE President will serve as the Retiree-Associate Director.  A process was established for current employees who are Associate Members to nominate and elect a Current Employee–Associate Director. 
The full text will be posted to the Documents page upon approval of the minutes of the meeting.  
CHANGE IN MEETING DATE! - Directors Meeting to take place June 16
All members are encouraged to attend the Directors Meeting scheduled for Tuesday, June 16, to begin at 5:30 Eastern time. The meeting will be at the Elizabethtown Service Center.
One item on the agenda will be to plan the Convention Activities and Agenda, so be thinking on what you might like to see be a part of that. Communicate any ideas, concerns, or suggestions to your Directors or Officers.
All KASCOE members and Kentucky FSA employees are encouraged to attend the Directors' Meeting Scheduled for March 19.  The meeting will be held at 6 p.m. ET at the Elizabethtown Service Center.  
KASCOE is your organization.  Please communicate any ideas, concerns, suggestions, or comments to a Director, or plan to attend and be part of the conversations.
On December 9, 2014, KASCOE Directors met in Lexington to conduct association business.  Here are some highlights from the meeting.
Membership is at a recent-high of 81% and growing!  Please help us reach out to new employees and even those who may have worked with the agency for some time to share what KASCOE is doing for Kentucky's FSA Employees.
Financial Planning/Retirement Meetings have been planned with NASCOE Benefits provider Dillard Financial.  These will be held Feb. 7 in Hopkinsville and Feb. 21 in Versailles.  More details are forthcoming.
KASCOE will continue to work for more than one Key PT Position in Kentucky.  We will formally propose that a total of 4 are needed in the state.
President, Dana McKinney will communicate with CED's in shared management offices to remind managers of key policies that may apply to their circumstances.
A memo will be prepared and submitted to the SED and STC stating that KASCOE is strongly in favor of finding an alternative to Lincpass-controlled Lexmark printers/copiers that have been rolling out to COF's.  Feedback from other states and users in our state leads us to believe our customers and employees will be adversely impacted if these are put into our offices.
We plan to cooperate with DD's and the State Office in a work-group format to find ways we can improve the Performance Evaluation Rating System for future rating periods.
Dana McKinney and Nina Hunt will be attending the SEA Rally as delegates in April.
A team of KASCOE representatives will "crunch the numbers" to better understand how the workload model used this FY, and possibly into the future, reflects the volume of work in our offices.
A State Convention will likely be held in October, 2015, in Owensboro.
See any Director if you're interested in a chance at winning a $3,000 cash prize.  For a $1 per ticket donation to the Southeast Area Rally's fundraiser, your name will be entered in the drawing.
KASCOE Directors had the privilege to meet with the STC, SED, and Chiefs on Wednesday, December 10, 2014.  Our comments and discussion included many of the same things we had discussed the previous evening, and fortunately, the STC reported that many of these issues had been topics in their discussions the previous day, as well.  This shows we have great opportunities right now to partner for the benefit of our employees!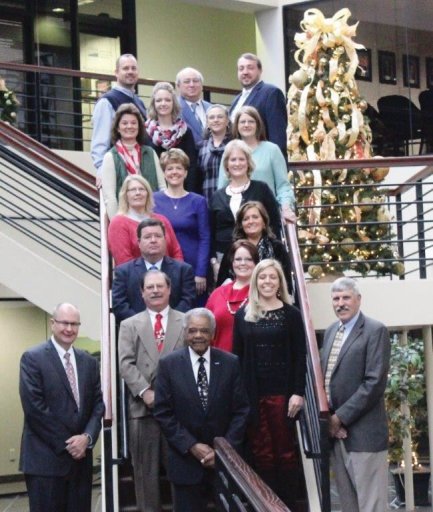 "Thank you's" were extended for face-to-face trainings, partnership with activities like FSA Feud, STC members' participation in trainings, and allowing for our current meeting with them.
Remarks were made on improved employee morale, and how this is due largely to things like promotion opportunities for PT's to recently filled COT positions, backfilling critical vacancies, and networking opportunities that have occurred at trainings.
We shared some KASCOE success stories regarding Scholarship, Awards, Emblems, and Publicity.
Opportunities were presented for cooperation between KASCOE and the STC/STO concerning:

Key PT Positions
Workload Model Team
Performance Evaluation Rating System Work-group
NAFEC membership
KASCOE is committed to serving our members.  Please communicate with your Directors or the Officers if you are interested in working on any of these projects or serving on a committee.
Upcoming Meeting:  KASCOE Officers and Directors will meet with the SED and STC at 9 AM for an hour on Wednesday, December 10.   If you have issues or concerns that can be considered and discussed with management, now is the time to communicate those to your KASCOE Directors.   
Success Story: KASCOE President, Dana McKinney, recently shared this message with Directors, "FSA Feud!  I think everyone had a big time with this, and it allowed KASCOE to shine bright.  It also provided a great partnership opportunity for our association and the STO, and hopefully this will be the first of many.  Silent auction at the NAP training made $508.50, plus $63 or more in donations to scholarship.  Hospitality Room had a good turnout both nights." 
Save the Date:  KASCOE is coordinating retirement sessions with NASCOE benefits provider Dillard Financial.  Soon, flyers will be posted with all the information.  WEST meeting is FEB 7 in Hopkinsville.  EAST meeting is FEB 21 in Versailles.  Stay tuned for more information. 
/